UCSD Musculoskeletal Radiology

bonepit.com

Neonatal Hip Ultrasound
Neonatal Hip measurements for the evaluation of congenital hip dysplasia and displacement (CHD).
INTRODUCTION
Sonography is an effective technique for visualizing the osseous and nonosseous structures of the infant hip and neonatal hip joint. The HIP measurement can be used as a tool to help identify and classify hip dysplasias and dislocations as an alternative to X-ray radiographs.
Depending on the age of the baby, the 5.0MHz or 10MHz Matched Impedance probes provide best visualization of anatomical landmarks.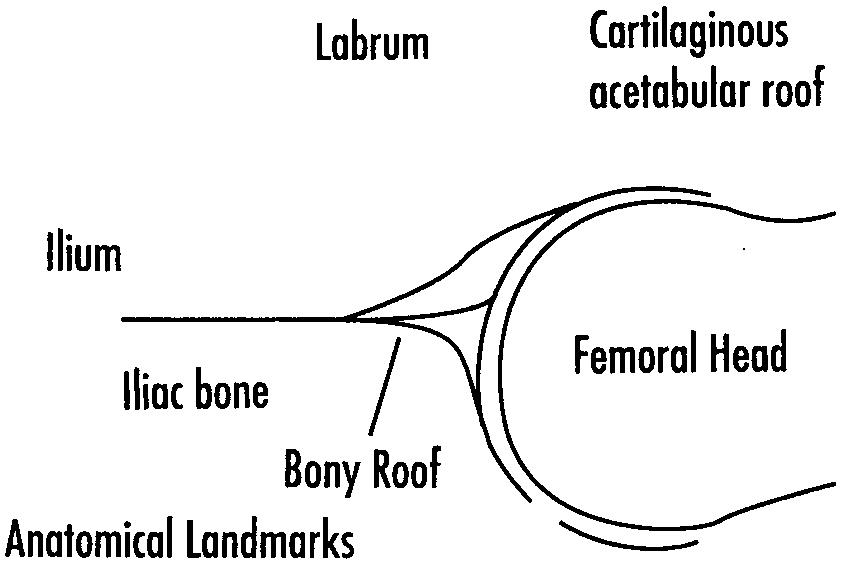 A drawing of the neonatal hip is provided to illustrate anatomical landmarks The routine views are Transverse/Neutral View, Transverse/Flexion View and Coronal/Flexion View
HIP ANGLE MEASUREMENTS Based on the studies by Dr. R. Graf, the HIP ANGLE
measurement calculates two angles. The baseline is drawn on the ilium to form an angle at the junction of the cartilaginous roof and bony acetabular roof. The alpha (a ) angle is formed by the bony acetabular roofline and the iliac line. The beta (b ) angle is formed by the straight lateral edge of the ilium and the fibrocartilaginous roofline through the main echo of the labmm. Ultrasound studies indicate that an a > 600 and b < 550 in a mature hip should be considered normal (Graf, 1980).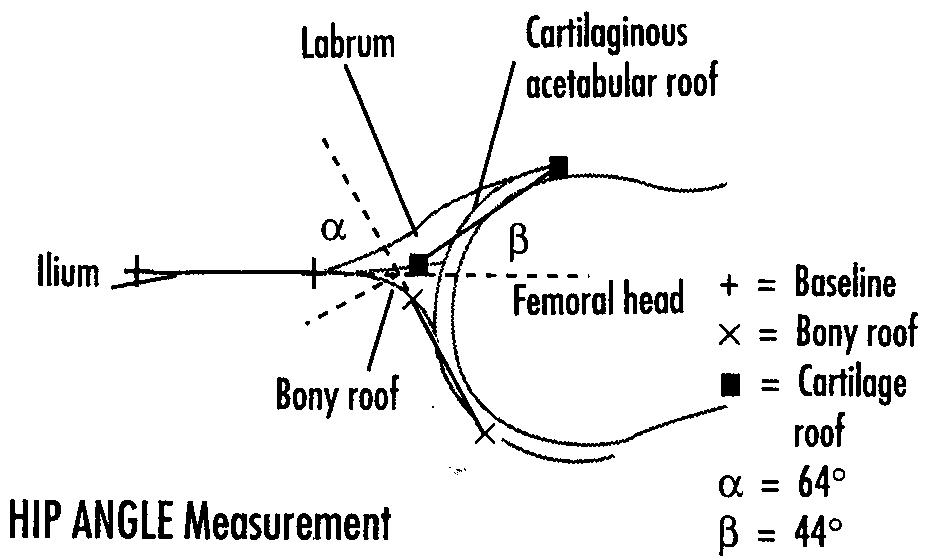 Drawings of the neonatal hip are shown above demonstrating graphical overlays of the HIP ANGLE and HIP RATIO measurement methods.
HIP RATIO MEASUREMENT
The HIP RATIO measurement calculates the percentage of femoral head coverage under the bony roof. Based on the studies by Dr. C. Morin and colleagues, a mean value of 59.3% coverage of the femoral head was found in normal cases.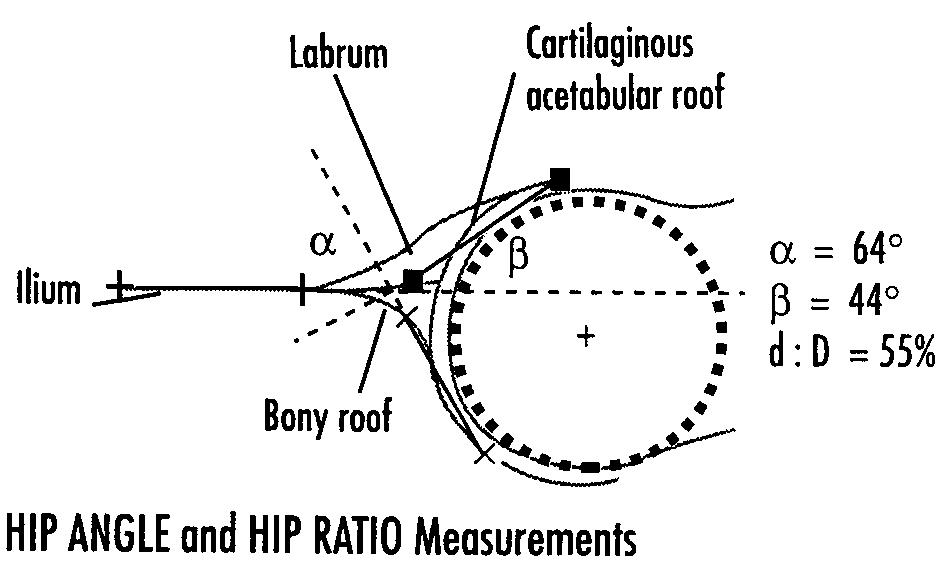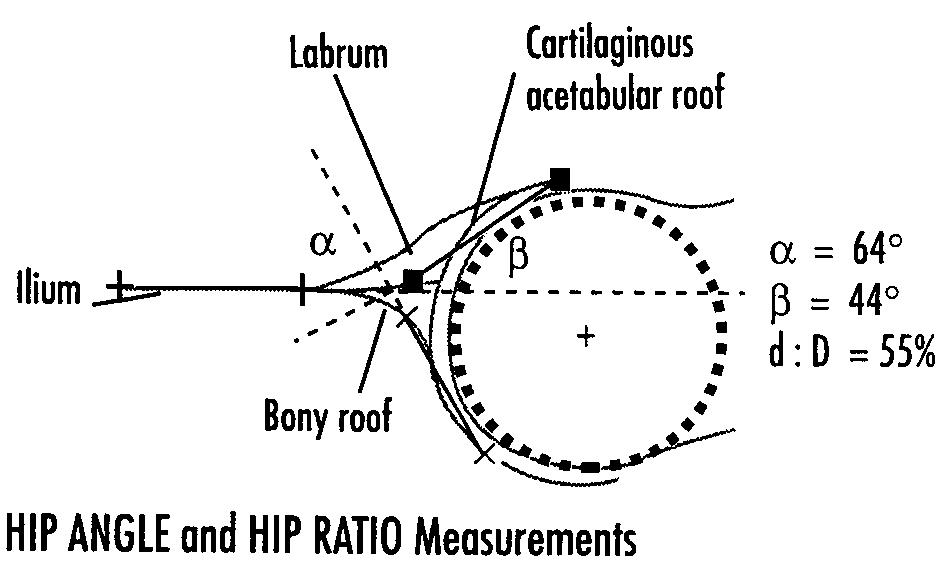 CLINICAL REFERENCES
Bick U, Muller-Leisse C, Troger J
"Ultrasonography of the Hip in Preterm Neonates"
PediatrRadiol 20 (5):331-333 1990
Morin C, Harcke HT, MacEwen GD
"The Infant Hip: Real-Time Ultrasound Assessment of Acetabular Development"
Radiology 157:673-677 1985
Nimityongskul P, Hudgens RA, Anderson LD, Melhem RE, Green AE, Saleeb SF
"Ultrasound in Management of Congenital Dislocation of Hip (CDH) or Developmental Dysplasia of the Hip (DDH)"
Engesaetor LB, Wilson DJ, Nag D., Benson MKD
"Ultrasound and Cengenital Dislocation of the Hip. The Importance of Dynamic Assessment."
JBonejoint Surg 72B:197-201,1990
Graf R.
"The diagnosis of congenital hip joint dislocation by Ultrasonic compount treatment."
Arch Onhop Traunan Surg 97:117-133, 1980
Graf R.
"New Possibilities for the Diagnosis of Congenital Hip Joint Disloaction by Ultrasonography."
JPediatr Onhop 3:354-359,1983
Graf R
"Classification of Hip Joint Dysplasia by Means of Sonography"
Arch Orthop Trauma Surg 102:248-2551984
Graf R.
In Congenital Dysplasia and Dislocation of the Hip by D. Tonnis.
Spnnger-Verlag, 14:189-192,1987
Jones DA and Powell N.
"Ultrasound and Neonatal Hip Screening"
JBone Joint Surg 72B:457-459, 1990